ProLift Rigging
Expertise Partner
ProLift Rigging was formed in 2010 out of a small, local rigging outfit in Lynchburg, VA. While maintaining a strong local presence, ProLift has grown to be a national full-service rigging and transport organization. Through our local approach, paired with our full-service rigging capabilities and industry experts, we can service a wide variety of customers across various industries. Through our experienced project management, engineering, qualified rigging superintendents, operated crane and rigging services, specialized lifting and hauling equipment, and strategic warehouse locations; ProLift ensures you are successful in any situation. We understand the internal complexities that surround your project; including, deadlines, project logistics, and communication. We partner with you to ensure your success through our proactive, proficient, and professional approach.
Integra Mission Critical
Expertise Partner
Integra Mission Critical, LLC was founded in 2014 with the intent of modularizing a traditional data center UPS room design. Our integrated approach to the design, manufacturing and delivery of electrical infrastructure has led to the development of many other offerings that make up The Integra Way. By building MEP modules in our factories we remove complexity from the job site. Today Integra offers innovative solutions based upon the decades of experience we have dedicated to the data center industry. These solutions include our original PowerBlox technology as well as solutions for cooling, turn-key data centers, modular data centers, edge data centers, immersion cooling and CryptoBlox. We leverage our domain expertise to help clients build faster, safer, more sustainably, and at a lower cost.
RLE Technologies
Innovation Partner
RLE Technologies is the global provider of SeaHawk leak detection, Falcon facility monitoring solutions, Raptor system integration products, and Triad raised flooring systems, grommets, and containment products. Triad raised floors set the industry standard with weight ratings up to 5,000 pounds, airflow panels with directional fins to maximize airflow efficiency, quick turns on custom powder coat flooring colors, and are available as either complete flooring systems or individual components with fit-all sizing to easily drop into almost any existing floor structure. Founded in 1984 and locally owned and operated, RLE's products are proudly designed, engineered, and manufactured in the USA. 
Eyrus
Innovation Partner
Complete Visibility. Immediate Impact. From Attendance and Access Control, to Daily Reporting and Proximity Tracking, the Eyrus Workforce Visibility Platform makes your entire management process more accurate and impactful. Eyrus empowers all project stakeholders to make a greater impact with real-time visibility into your workforce data. Our flexible platform allows you to build as you grow, capture as you go.
With a robust selection of capabilities, Eyrus lets you: create site zones, send mass text messages to the field, upload your schedule, auto-email reports, retrieve historical time sheets, invite teams for daily reporting, set up alerts for safety, security, and schedule deviations, integrate your tech stack, and much more.
PCX Corporation
Innovation Partner
About PCX Corporation – Build The Future More Efficiently™ – PCX designs and manufactures prefabricated electrical power distribution systems for the data center, commercial construction, and industrial/utility markets worldwide. Accelerate your construction with PCX's prefabricated modular electrical solutions today.
Skudo
Exhibition Partner
Skudo manufactures premium temporary surface protection products. Skudo's mission is to develop solutions for the construction, flooring, and facility management industries to protect all manner of surfaces from damage during new construction, renovation and short-term facility repurposing. Skudo products deliver superior performance through patented adhering products and heavy duty loose lay products. Skudo solutions are purpose-built to protect a variety of surfaces, including Concrete, Terrazzo, Epoxy, Tile, Stone, Hardwood, Carpet, LVT, Metal and Glass. Innovative, purpose-built surface protection systems. This is All We Do.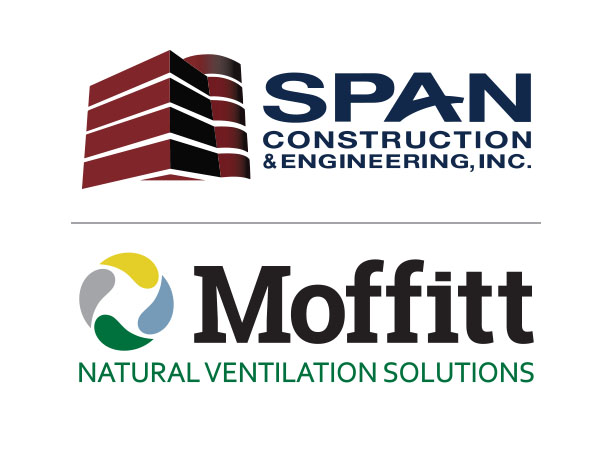 SPAN & Moffitt
Exhibition Partner
SPAN is the largest steel building contractor in North America, and a trusted partner for clients on their construction programs - having built 200M+ SF of buildings to date. Moffitt has been designing and manufacturing natural ventilation solutions since 1961 – serving commercial spaces, industrial facilities, and data centers. Now both companies are partnering to bring clients added value through modular solutions and the DataStream™ plug and play modular louver system.